Fashionable And Comfortable Slippers For Women
When the pandemic strikes, people need to stay at home. Sometimes staying inside the four corners of our house makes us not buy a pair of shoes, but instead, count on slippers. It would be best to look for high-quality sandals to protect our feet from cold and hard floors. People also look for comfortable, soft, and cozy pairs of footwear to support the needs of their feet and give comfort. As usual, there are many choices in the market, so we highlighted the best picked and reviewed pairs for you. Check out the items below and see what fits perfectly with you.
You can count on Ugg Genuine Shearling Slippers, and many celebrities like Jennifer Lopez can agree to it. According to some A-list icons, the shearling lining will keep your feet cozy and warm. Also, it has a sturdy lugged outsole that gives you stability and complete traction. You can both wear them inside your home and outside when running some errands. Some reviews said that the buyer had the slippers for five years but is still in good shape and condition.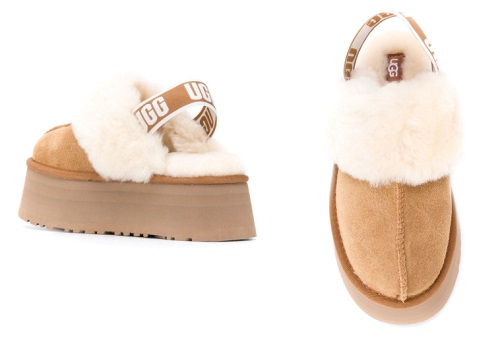 Some buyers are looking for budget-friendly items, and Amazon will offer you the Dearfoams Velour Clog Slippers that can give you a bang on your daily routine. It has a velour-lined footbed that is soft, and the house shoes give you cushioned insoles. You can count on these clog-style slippers because they can provide you complete comfort when wearing them. It would be best to consider these on your choices for your footwear at home because you can achieve a classic vibe, plus they are machine-washable.
You can check Amazon for reviews about the NineCiFun Slip-On Fuzzy Slippers. The slippers have 5-star ratings from buyers because of their features. It would be best to add this to your choices because you will enjoy the foam cushioning and fuzzy lining. Also, the item will be perfect as footwear inside your house because of the waterproof outsole, anti-skid capabilities, and they stay fluffy, according to some reviews.

The Isotoner Satin Ballerina Slippers are unique compared to other slippers because they look like ballet shoes. According to shoppers' reviews, the items have stretchy and soft satin materials and are lightweight and comfortable to wear. You can choose from 16 pretty patterns and colors. Also, you can carry the slippers with you while traveling since you can fold them up into compact sizes.
Sometimes people want to buy items recommended by experts. And when it comes to slippers, the Vionic Gemma Mule Slippers are from the team of podiatrists. Furthermore, you can count on them for support and comfort. The items have a durable rubber sole, biomechanically-contoured slip-on for your arches and heels' protection, and antibacterial and odor-resistant features. Also, you will know that this would be a good buy since they earned a seal of approval from one and only Oprah. Purchase and enjoy the slippers with an orthotic footbed to have spring in your every step.
Shop for affordable fashion-forward lifestyle brand with Bellelily.com
Bellelily is a one stop online fashion store featuring the latest fashion trends for women's clothing, accessories, home décor and more. They have affordable collections that redefine the latest trends with excellent style and high quality to satisfy the fashion needs of every fashionista like you. For amazing discounts and special promotions, visit bellelily.com today!
Tags :
Bellelily
Dearfoams
Isotoner
NineCiFun
Slippers
Ugg
Vionic